Toyota 4Runner TRD Off Road trail review: archaic in all the right ways
KDSS kicks ass
At $1,750, you may balk at adding KDSS to your 4Runner if you're in a showroom ready to sign on the dotted line.
Don't.
It positively transforms the 4Runner. Basically, KDSS consists of much thicker sway bars that disconnect automatically via a hydraulic system if they detect pressure at low speeds. It's the best of both worlds: better on-road handling and more off-road articulation. Toyota fits the same tech as standard to the related Lexus GX 460 and its off-road flagship, the Land Cruiser.
No substitute for big tires
One of the reasons the 4Runner remains such a comfortable, competent off-roader is its big tires. Our tester's 265/70-17 Dunlop rubber didn't boast a rugged tread, but the tall sidewalls helped us bound over rocks in comfort and with the security that there was a lot of air between sharp surfaces and the alloy wheels.
If you're buying an off-roader, think twice about larger wheels and smaller sidewalls. We're looking at you, Jeep and Land Rover.
Refined, but only so much
The 4Runner is quiet and rides softly, but it's not a great choice for those who don't plan to test its limits. Those rugged looks add up to a head-jostling experience over rough pavement and curvy road handling that's mediocre, even with KDSS.
Its tall-riding design forces a big step to climb aboard. Once there, the view out's not great and although the driver's seat is height-adjustable, you'll still find yourself sitting with your legs out almost like a sports car.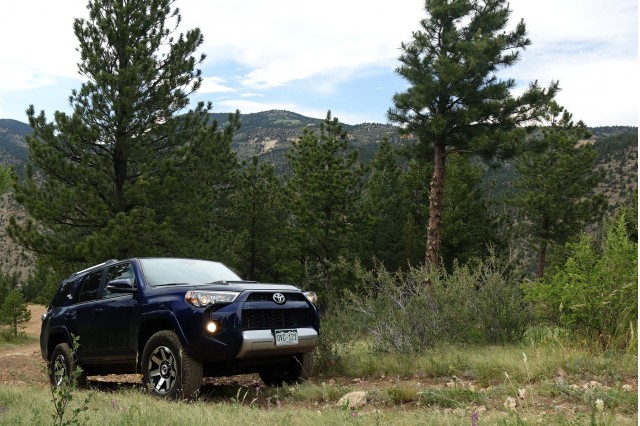 2017 Toyota 4Runner TRD Off Road
Tradition counts
We can thank the city slicker Toyota Highlander for allowing the 4Runner to be unapologetically archaic. Its body-on-frame construction and simple solid rear axle endow it with a rugged, simple feel on and off the road. But it clings to tradition in other ways, like its power-retracting tailgate window and a stubby lever to engage the part-time transfer case.
Buy this over a Jeep Wrangler
Here's a statement that won't make us too many friends in the Jeep community: if you're a casual off-roader, skip the Jeep Wrangler and just buy a 4Runner. It's vastly more comfortable over any terrain, it's loaded with far better convenience and safety features, and it's nearly as off-road capable.
Odds are, you're not going to take a $40,000 SUV on the Rubicon Trail. Kudos to those few of you who will. But if you're just looking for a rugged rig to take camping off the beaten path with a small trailer in tow, the 4Runner's got your name written all over it.