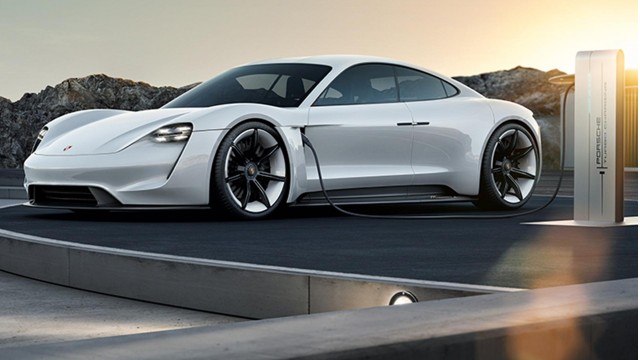 Porsche will come out next year with an electric car based on its Mission E concept from the 2015 Frankfurt auto show.
The automaker doesn't want potential owners to worry about a lack of charging infrastructure so plans to install at least 500 fast chargers at popular spots in the United States, including at its 189 dealerships and some highway stops.
The information was revealed to by Porsche's local boss Klaus Zellmer in an interview published Monday.
"If you want to buy [the Mission E], you want to know what happens if I go skiing and go further than 300 miles," he said. "What do I do? So we need to have answers for that."
In addition to supporting long-distance drives, Zellmer explained that the chargers will also help ease any psychological barriers (i.e. range anxiety) owners might have, even though most will probably charge their cars at home.
The Mission E is expected to have at least 300 miles of range on a single charge. The 350-kilowatt, 800-volt fast chargers will be able to deliver an 80 percent charge—so around 240 miles—in just 20 minutes. The first was installed in Berlin last summer.
Unlike Tesla's Supercharger network, Porsche's fast chargers won't be free. The automaker is still determining a pricing scheme though has hinted the cost per mile might be similar to gasoline.
Porsche is betting big on vehicle electrification. It will likely follow up the Mission E sedan with a wagon option previewed by the Mission E Cross Turismo concept unveiled at the 2018 Geneva auto show. The automaker is also working on two next-generation electric car platforms, including one for sports cars.