Porsche Panamera 4S first drive review: the quiet heretic
It limbos lower. The Panamera's roof sits almost an inch closer to the ground. It spreads out more than an inch wider. It perches on a wheelbase 1.2 inches longer than before.
Porsche says the fly line–the one that moves your eye over its sinuous fenders–should remind you of some other car it builds. Any guesses? The linkage to the 911 is explicit, like the manual shift action that…well, let's not get ahead of things.
A certain VW-ness creeps into the thickness of the pillars and their angles, but by the time the Panamera resolves it all with a slim line of taillamps at its extravagantly hippy rear fenders it's forgotten.
It's a turbo, but not a Turbo
While you're carspotting, know this Panamera 4S has some fillips to distance it from the Turbo. Yes it has turbos, but before we kill some joy, the 4S has a single-piece deployable spoiler and round pipes. Herculean Turbos have a two-piece spoiler and trapezoidal outputs.
So if I blazed by you and you thought even more of me, gasping for coffee in the pre-rush-hour gloaming of suburban Atlanta, good for both of us. I drove the 4S and wrung its twin-turbo V-6 out before the lunch rush at the Smith House claimed all its fried chicken, because priorities.
The Panamera lineup has spread its wings since its 2017 intro. The sedan comes as a Turbo, with a heady 550-hp twin-turbo 4.0-liter V-8 and all-wheel drive and a 3.6-second 0-60 mph time. A plug-in hybrid model seeds the ground for Porsche's electric future (the Mission E is real, and coming).
Porsche stuffs the Panamera 4S with a twin-turbo 2.9-liter V-6, up 20 hp from the prior six for a total of 440 hp and 405 lb-ft. Peak torque hits at 1,750 rpm and doesn't let up until 5,500 rpm, a compelling plateau not unlike the one reached by the second season of "The Walking Dead." This one arrives more quickly: the 4S launches to 60 mph in 4.0 seconds when it has the Sport Chrono package, and hurtles to a 179-mph top speed, typical V-6 whammering noises playing accompaniment to its 6,800-rpm redline.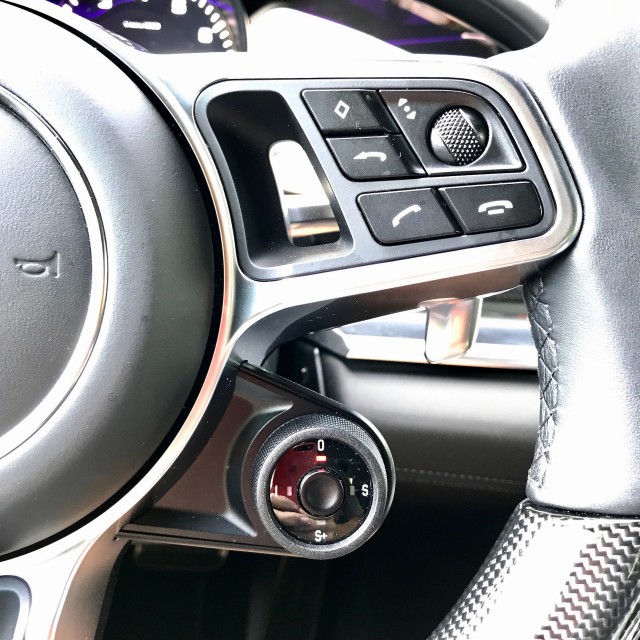 2018 Porsche Panamera 4S
No manual here, just a brilliant automatic. Leave the new 8-speed dual-clutch automatic in Manual mode, and the Panamera 4S lights off that redline like a Zambelli family July 4th picnic. Porsche wins the dual-clutch programming gold, though the 4S wants to start in 2nd and aggravates the lumpy around-town cycling of these gearboxes.
Tickling the cool-touch paddle shifters calls up ever-quicker shifts through its different drive modes. The top two gears give it overdrive legs, and if you're brave or dumb or both, top speed arrives in 6th gear. The cops may briefly be interested in that detail.
With Sport Chrono, a punch of the button in the middle of the sport-mode selector yields a 20-second hit of driveline crack. Shifts get faster than in Sport+ mode, the 4S strains at the leash, then it relaxes after you've disassembled some traffic. Hit it again. And again. This nurse responds when you hit the call button.