We got a preview of it at January's 2017 Detroit auto show in the form of a concept, and now some prototypes for Audi's upcoming Q8 have been spotted.
The Q8 is a new range-topping SUV that Audi will reveal in late 2018. It will likely reach the United States early the following year, as a 2020 model.
The prototype in the spy shots is similar in size to the Q7, ruling out the possibility that we might be looking at the smaller e-tron electric SUV. The e-tron is also due for a reveal in 2018 though we're yet to see any prototypes.
2020 Audi Q8 spy video from Motor Authority on Vimeo.
The Q8 being similar in size to the Q7 also makes sense as the duo shares an identical version of the Volkswagen Group's MLB platform designed for front-wheel-drive vehicles with longitudinally-mounted engines. Production will also take place at the same plant in Bratislava, Slovakia.
As the concept and these latest spy footage confirm, the Q8's coupe-like stance lends it a sporty profile. This is aided by a slightly wider track compared to the Q7. Key rivals will be the BMW X6, Mercedes-Benz GLE Coupe and Land Rover Range Rover Sport.
The spy shots also reveal a more pronounced grille compared to what's found on other Audi SUVs. The headlights also feature the teardrop motif first seen on the current A4 sedan. Still, we have to wonder if the design is distinct enough to stand out in the growing crowd of luxury SUVs.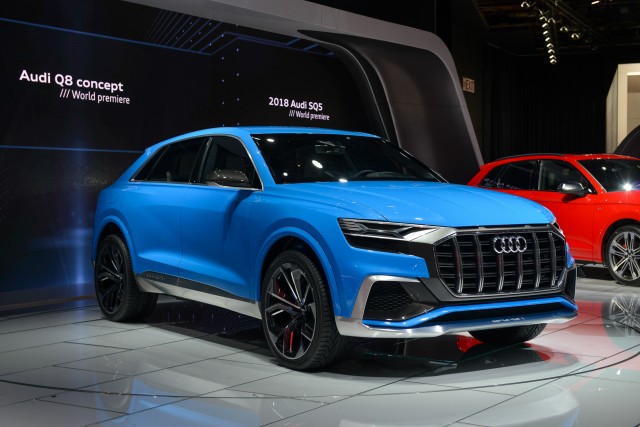 The base powertrain in the U.S. is expected to be a 3.0-liter turbocharged V-6 delivering 354 horsepower and 369 pound-feet of torque. It will be paired with an 8-speed automatic transmission and all-wheel drive. Above this will be an e-tron plug-in hybrid model, likely pairing a 3.0-liter turbocharged V-6 with an electric motor for a combined output of 442 hp and 516 lb-ft. Such a setup was fitted to the Q8 concept.
More potent offerings should include an SQ8 and perhaps even an RS Q8. The former will likely come in diesel flavor, though not in the U.S. Recall, Audi already has an SQ7 TDI powered by an electric compressor-equipped 4.0-liter twin-turbocharged V-8 diesel good for 429 hp and a massive 663 lb-ft. Should an RS Q8 be launched, it will likely come with a version of the 4.0-liter twin-turbocharged V-8 found in the RS 7 Performance and S8 Plus.
Stay tuned for updates as development continues.